DESCRIPTION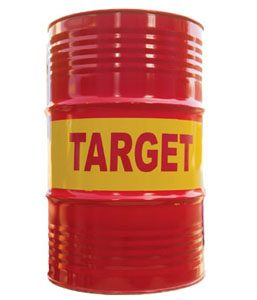 Target TARICUT is specially compounded emulsifying oil which readily mixes with water to form homogenous and exceptionally stable emulsions. This oil is fortified with select rust preventive and corrosion inhibitor additives, making it suitable for ferrous as well as non-ferrous metals. Also suitable for hydraulic systems requiring oil in water emulsion, Target TARICUT® oil is blended with powerful biocides to provide maximum protection against the detrimental effects of bacterial contamination, which results in reduced service life, unpleasant odors, component corrosion and reduced tool life. The uncut soluble oil is designed to be mixed with water in a ratio of 15 ~ 25 parts of water to oil.
APPLICATIONS
TARGET TARICUT specially formulated for particular requirements of mild/moderate machining operations which generate excessive heat and as an effective coolant rather than a lubricant is the essential requirement.
Due to its tendency to permit settling of dirt is also recommended for most grinding operations.
BENEFITS
Target TARICUT is equally suitable for ferrous as well as non-ferrous metals. Special anti-rust and anti-corrosion additives, a matched biocide and ready emulsifiability make this oil ideal cutting oil.
Also suitable as hydraulic fluid in hydraulic systems designed to use oil water emulsions.
Permit rapid circulation of chips and grinding dirt.
Form stable emulsion in soft/hard water.
TYPICAL KEY PROPERTIES
TARICUT®
 
Kinematic Viscosity
@40ºC, cSt ASTM D445
15.0
Flash Point (COC), ºC
ASTM D92
65
Emulsion Type
Dense White