Description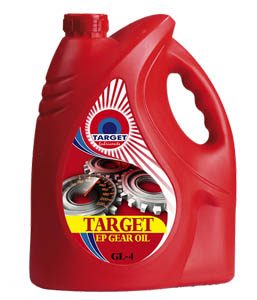 TARGET EP GEAR OIL GL-4 is a high quality gear lubricants for automotive as well as industrial use where extreme pressure type gear lubes are required. Target® GEAR OILs are mild EP lubricants manual transmission, steering gears and other gearing systems of automotive equipment. These are formulated with solvent-extraction refined mineral base oils and selected chemical additives. Thanks to their high shear stability, they provide excellent protection against wear, scouring and rusting of gears and prevent foaming of oil.
APPLICATIONS
Ideal for manual transmission systems and transaxles in automotive gears particularly hypoid gears in passenger cars and other automotive type equipment's operated under high speed/low torque or low speed/high torque conditions.
Also recommended for many tractor and agriculture equipment gear sets, oil lubricated track rollers of crawler tractors, and many industrial applications.
PERFORMANCE STANDARDS
API                                          GL-4
SAE                                         90,140
US MIL                                    L-2105B
TYPICAL KEY PROPERTIES
GEAR OIL EP GL-4
90
140
Kinematic Viscosity

@100ºC, cSt ASTM D445

16.5
30
Viscosity Index

ASTM D2270

90
90
Pour Point

ASTM D97

-3
-3
Flash Point (COC), ºC

ASTM D92

242
250