DESCRIPTION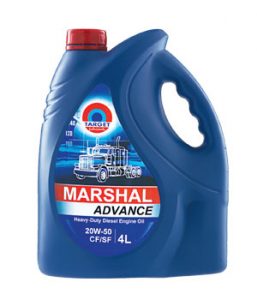 TARGET MARSHAL ADVANCE Formula are premium multi-grade API CF/SF universal type crankcase oils specifically designed for use in a wide range of Diesel and gasoline engines. They are formulated with highly refined base stocks and a Package Additive System of anti-wear, anti-oxidant, rust-preventive, detergent, dispersant and de-foaming agents. MARSHAL 4000 engine oils offer remarkable tolerance towards the sulphur content in the fuels.
APPLICATIONS
Ideal for naturally aspirated and some moderately turbo-charged Diesel engines operating on fuels with sulphur contents as high as 1.5 mass percent without the need to adjust drain intervals to ensure optimum engine life and performance.
Suitable also for Caterpillar pre-combustion type engines.
Also recommended for use in many non-engine applications in highway, construction and agricultural equipments such as transmission, final drives and hydraulic system of Caterpillar tractors.
PERFORMANCE STANDARDS
API                              CF/SF
US MIL                        L-2104
TYPICAL KEY PROPERTIES
MARSHAL ADVANCE
15W/40
20W/40
20W/50
Kinematic Viscosity

@100ºC, cSt ASTM D445

14.4
15.9
20.0
Viscosity Index

ASTM D2270

124
120
120
Flash Point (COC), ºC

ASTM D92

230
235
240
Pour Point, ºC

ASTM D97

-18
-18
-18
Total Base Number,

mgKOH/g ASTM D2896

11
11
11
Sulphated Ash% Wt

ASTM D874

1.1
1.1
1.1