Agents and Distributors:
Those who are instrumental in ensuring the machine owner and user's access to our fine-blend premium oils, is unhindered.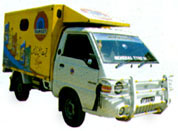 All possible efforts are continuously a foot to make Target® available to the machines performing in the farthest corners of the country, which is blessed with the widest diversity of clime, culture and caliber. Our clients make it a point  to see that no machine has to go without the right oil.
STORAGE GUIDE
Safe use and handling of lubricants is of paramount importance, both for the user as well as for the environment.
The machinery must be stopped when oiling is attempted.
Lubricants can burn if exposed to open flame.
Clothes and fabrics, cotton waste and mops used for cleaning are especially flammable when soiled with the lubricants.
Fire extinguishers and other firefighting equipment must be placed strategically, and in easily accessible places. Every one working around lubricants must be aware of their location and use.
Oxygen cylinders / tanks must never be placed in the vicinity of lubricants, for the mixture of lubricant fumes and oxygen can form a powerfully explosive compound.\all spillage / drops must be immediately removed from the floor to avoid slipping over the surface, which may cause a serious accident.
For storage, handling, sale and use of the lubricants, the importance of good housekeeping can never be overstated