DESCRIPTION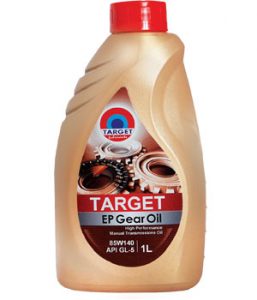 TARGET EP GEAR OIL GL-5 oils are designed for use in industrial and automotive gearboxes and general lubricating systems. These are multi-purpose extreme pressure sulphur based oils with EP additives, blended with special inhibitors to increase aging stability and anti-corrosion properties. TARGET EP GEAR OIL GL-5 gear oils have a high persistence to break down under mechanical loads and help minimize wear under heavy and shock load conditions.
APPLICATIONS
Suitable for manual transmissions, transaxles in automotive gears, particularly hypoid gears in passenger cars.
Suitable for all equipment operated under high speed/low torque and low speed/high toque conditions.
Ideal for gear sets on tractors and agricultural equipment, track rollers of crawler tractors and a variety of industrial applications.
PERFORMANCE STANDARDS
API                                          GL-5
SAE                             85W140, 80W90
US MIL                                    L-2105D
BENEFITS
TARGET EP GEAR OIL GL-5 oils exhibit excellent resistance to aging and oxidation, thus prolonging service intervals.
They provide excellent protection against corrosion of steel as well as non-ferrous metals and possess superb anti-wear properties.
They also offer excellent shear stability as well as provide rapid air release.
These gear oils have good demulsifying properties and offer increased lubricant life.
TYPICAL KEY PROPERTIES
TARGET EP GEAR OIL GL-5
SAE-

80W90

SAE-85W140
Kinematic Viscosity

@100ºC, cSt ASTM D445

19
26
Viscosity Index

ASTM D2270

95
95
Flash Point (COC), ºC

ASTM D92

180
200
Pour Point, ºC

ASTM D97

-27
-18