DESCRIPTION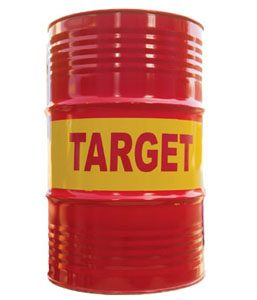 TARGET TARI ATF oil is specially formulated for use as Automatic Transmission Fluid, which conforms to the General Motors specifications type A(A). It is also suitable for converters and power steering systems.
APPLICATIONS
Automatic Transmission systems, converters and power steering systems in which the manufacturer recommends the GM specifications type A/suffix A.
PERFORMANCE STANDARDS
General Motors type A suffix A
Ford Automatic Transmission-MERCON
Allison C-4
Caterpillar TO-2
Dexron (R) IID
Hagglunds Dexison HF-0
BENEFITS
TARGET TARI ATF oil aids smooth working of the transmission systems, extends gearbox life and efficient working of the Automatic Transmission systems. Its high viscosity Index makes it suitable for operation at a wide range of temperatures.
TYPICAL KEY PROPERTIES
TARGET TARI ATF
20
Kinematic Viscosity

@100ºC, cSt ASTM D445

7.5
Viscosity Index

ASTM D2270

145
Flash Point (COC), ºC

ASTM D92

190
Pour Point, ºC

ASTM D97

-30