DESCRIPTION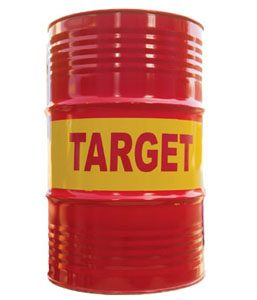 TARGET V-2 is high quality oil specifically developed for all standard two-stroke cycle engines. Based on high viscosity index mineral oils, TARGET V-2 oils are blended with carefully selected additives to constitute the "Self-Mixing Formula".  TARGET V-2 offers a far superior performance to most conventional two-stroke cycle engine oils.
APPLICATIONS
Recommended for larger air cooled two-stroke cycle engines and many water cooled standard two-stroke cycle engines designed on both oil injection and premix systems.
Specifically blended to lubricate two-stroke gasoline automotive engines, TARGET V-2 should not be used for outboard marine engines.
PERFORMANCE STANDARDS
SAE                                         20
JASO                                      FB
BENEFITS
TARGET V-2, the self-mixing formula, mixes instantly and thoroughly with the fuel, resulting in a clean burning mixture, powerful pickup, clean engine innards and efficient lubrication of the piston ring and cylinder walls.
A near complete combustion helps minimize exhaust smoke and adds to the general hygiene and longevity of the machine.
TYPICAL KEY PROPERTIES
TARGET V-2
Kinematic Viscosity

@100ºC, cSt ASTM D445

8.5
Viscosity Index

ASTM D2270

95
Flash Point (COC), ºC

ASTM D92

180
Pour Point, ºC

ASTM D97

-6