DESCRIPTION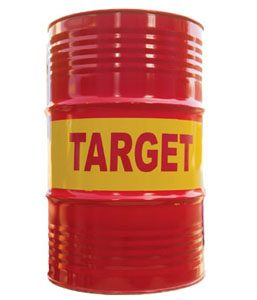 TARGET TARI FLUSH is high quality flushing oil for cleaning of all kinds of machines, engine crankcase and other machine parts in the automotive as well as industrial machines. Ideal for flushing surfaces soiled with grime, rust and other adhering matter. The detergent additives contained in this oil aid easier and superior cleaning at room temperatures.
APPLICATIONS
Flushing and cleaning of machine parts, crankcase and other surfaces of grime, rust and other deposits.
BENEFITS
Easier and superior cleaning of metal parts of automotive and industrial machines at room temperature.
TYPICAL KEY PROPERTIES
TARGET TARI FLUSH
10
30
Kinematic Viscosity

@100ºC, cSt ASTM D445

3.9
11.0
Viscosity Index

ASTM D2270

70
90
Flash Point (COC), ºC

ASTM D92

180
240