DESCRIPTION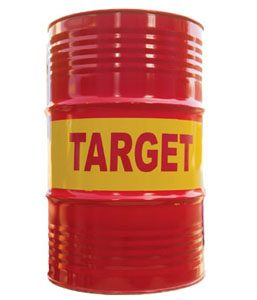 TARGET TARI GASSELLA is a premium quality low-ash oils that are blended from specially selected base stocks for use in highly rated spark ignited and dual fuel four-stroke cycle engines requiring low-ash oils, or when un-sweetened gas needs to be used. Fortified with a balanced additive package designed to control ash, and made up of ash less detergents and dispersants, anti-wear, anti-corrosion and anti-foam agents, TARGET TARI GASSELLA oils satisfy the needs of the latter day stationary gas and dual fuel engines designed for industrial use which comes within the purview of legislation being formulated requiring containment of NOx emissions. These oils reduce engine deposits and support the latest 'lean-burn' or 'clean-burn' technology.
APPLICATIONS
Gas fueled spark ignited or dual fuel gas engines ignited with diesel pilot fuel.
Stationary engines fueled by un-sweetened ("sour") sulphur containing natural gas in industrial service.
PERFORMANCE STANDARDS
API                                          CF
BENEFITS
Reduced carbon deposits on cylinder walls, piston rings and valves.
Enhanced Diesel detergency in dual-fuel engines.
Exceptional stability against oxidation and nitration.
Optimized level of 'ash' components.
Adequate reserve alkalinity (TBN: 5.5 mg KOH/g).
Low phosphorus
Reduced environment degrading emissions
Reduced corrosion due to sour gas.
TYPICAL KEY PROPERTIES
TARGET TARI GASSELLA
15W/40
20W/50
Kinematic Viscosity

@100ºC, cSt ASTM D445

14.5
19.8
Viscosity Index

ASTM D2270

120
120
Flash Point (COC), ºC

ASTM D92

230
240
Pour Point, ºC

ASTM D97

-30
-18
Total Base Number,

mgKOH/g ASTM D2896

5.5
5.5
Sulphated Ash% Wt

ASTM D874

0.5
0.5