DESCRIPTION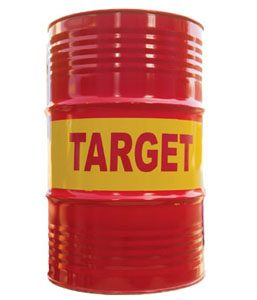 TARGET CNG Oil is a multi-grade; high performance engine oil specially formulated to meet the requirement of CNG operated automobiles.
TARGET CNG Oil is blended with specially selected additive system and high quality paraffinic base stocks to withstand very high temperature found in CNG engine's combustion chamber. This oil is designed to give excellent performance for a long period under severe operating conditions.
Applications
TARGET CNG Oil is designed for naturally aspirated or turbocharged vehicles operating under moderate to severe working conditions.
PEFORMANCE STANDARDS
SAE                                         20W-50
API                                          SG
BENEFITS
TARGET CNG Oil is formulated with special antioxidant additive to enhance engine life and increase oil drain intervals.
Equally beneficial for gasoline engine.
Improved piston and ring groove deposit control and reduced wear.
TYPICAL KEY PROPERTIES
TARGET CNG Oil
SAE 20W-50
Kinematic Viscosity

@100ºC, cSt ASTM D445

19.3
Viscosity Index

ASTM D2270

122
Flash Point (COC), ºC

ASTM D92

232
Pour Point, ºC

ASTM D97

-18
Total Base Number,

mgKOH/g ASTM D2896

7.9
Sulphated Ash% Wt

ASTM D874

0.73