DESCRIPTION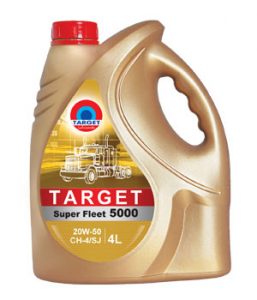 TARGET FLEET SUPER 5000 CH-4/SJ engine oils are blended from highly refined base stocks and selected additives to provide excellent detergency, dispersancy, and anti-wear properties. The High Base Number provides superior level of reserve alkalinity to protect vital engine parts against corrosion and premature engine wear. They offer longer drain capabilities in high output turbo-charged Diesel engines operating under severe service conditions.
APPLICATIONS
TARGET FLEET SUPER 5000 CH-4/SJ oils meet the requirements of most high-speed Diesel and gasoline engines of mixed fleets.
Recommended for commercial road transport, high RPM Generator sets and sea transport.
BENEFITS
TARGET FLEET SUPER 5000 CH-4/SJ engine oils reduce piston deposits, provide protection against cylinder bore polishing, reduce oil consumption, reduce filter plugging, offer very low oxidation and consequent thickening due to high TBN levels present which neutralize corrosive acids resulting from oxidation.
PERFORMANCE STANDARDS
SAE                                         20W50
API                                          CH-4/SJ
TYPICAL KEY PROPERTIES
FLEET SUPER 5000
20W/40
20W/50
Kinematic Viscosity

@100ºC, cSt ASTM D445

15.1
19.5
Viscosity Index

ASTM D2270

120
125
Flash Point (COC), ºC

ASTM D92

230
225
Pour Point, ºC

ASTM D97

-21
-21
Total Base Number,

mgKOH/g ASTM D2896

12
12
Sulphated Ash% Wt

ASTM D874

1.4
1.4