DESCRIPTION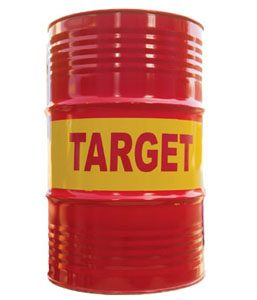 Tari gear and wire rope compounds are thick asphaltic lubricants with excellent thixotrophic properties needed for adequate adherence to metal surfaces, forming thick, sturdy coating to protect them. Offered in a range of six viscosity ratings to suit specific requirements, these lubricants contain asphaltic matter to provide extreme pressure characteristics. tari gear and wire rope compound 96 is blended with special EP sulphur-phosphorus additives.
Applications
Low cost adhesive lubricants for exposed gear and wire rope telphers and conveyors on colliery and quarry duties.
Especially suited for rough gearing operating at moderate speeds and exposed to tough weather and sea water sprays.
BENEFITS
Provide thick, sturdy protective film on metal surfaces.
Available in a wide range of viscosity ratings to suit specific applications.
Protect exposed metal surfaces of large open gear and rope systems against the corrosive effects of rough weather and salty environment.
TYPICAL KEY PROPERTIES
TARI GEAR & WIRE ROPE COMPOUNDS
A
C
D
F
G
H
96
Kinematic Viscosity
@100ºC, cSt ASTM D445
40
100
210
425
850
1140
120
Flash Point (COC), ºC
ASTM D92
225
230
235
238
240
250
230
Color
Black
Black
Black
Black
Black
Black
Black