DESCRIPTION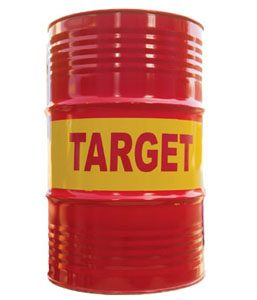 Target TARI CYLINDER oils are premium quality high viscosity oils blended from bright, highly refined stocks with low acid value and neutral solvents to provide excellent lubrication to saturated steam cylinders. These are relatively impervious to water, and continue with the same efficiency even in the presence of steam condensates. Blended from highly refined mineral oils, TARI CYLINDER oils contain no animal or vegetables fats.
Applications
For lubrication of saturated steam cylinders where high viscosity oils are required.
Recommended also for enclosed gears and other machine parts, where thick lubricating oil is required
BENEFITS
Target Tari Cylinder oils are the best choice where thick lubricants are needed. They provide excellent lubrication and feature good demulsification properties.
PERFORMANCE FEATURES
ISO VG                       460
ISO VG                       680
TYPICAL KEY PROPERTIES
TARI CYLINDER OIL
460
680
Kinematic Viscosity
@40ºC, cSt ASTM D445
450.0
670.0
Viscosity Index
ASTM D2270
75
75
Flash Point (COC), ºC
ASTM D92
240
280
Pour Point, ºC
ASTM D97
-3
-3