DESCRIPTION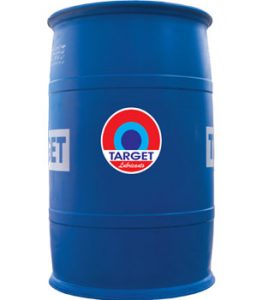 TARGET Synergy is premium low viscosity textile oil specially made for the lubrication of industrial sewing and knitting machines. Made of highly refined paraffinic mineral oil blended with rust-preventive, corrosion inhibitive additives, lubricity agent and anti-wear Additives, Synergy is a real protector of sewing and knitting machines.
APPLICATIONS
Industrial sewing and knitting machines.
Suitable for all speeds and needle types. Textile machine bearings, cams, spindles and other machine parts.
Suitable also for bottle washing machines in glass and beverages industries.
PERFORMANCE STANDARDS
ISO VG                                   20
BENEFITS
Provides added lubricity where sliding surfaces are in speedy motion.
Protects small bearing surfaces from wear and maximizes equipment life.
Reduces maintenance costs as Synergy protects equipment components from rust and corrosion.
Provides long service life and unhindered operation of the machine and parts, minimizing downtime.
TYPICAL KEY PROPERTIES
SYNERGY
20
Kinematic Viscosity
@40ºC, cSt ASTM D445
20
Viscosity Index
ASTM D2270
80
Flash Point (COC), ºC
ASTM D92
180
Pour Point, ºC
ASTM D97
-6