DESCRIPTION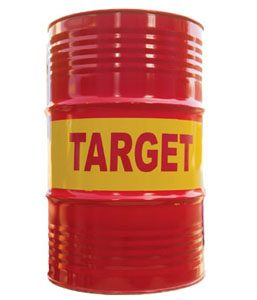 TARGET TARI MARINO oils are cylinder-cum crankcase lubricants for highly rated medium speed diesel engines operating on residual fuel in industrial and marine applications. These oils are blended with premium quality highly refined mineral base stocks fortified with advanced additive technology. TARI MARINO oils are designed to meet the ever rising needs of modern medium speed diesel engines.
APPLICATIONS
Medium speed industrial marine propulsion engines operating on residual fuel oils with sulphur content up to 2.5%wt.
Marine engine reduction gearbox and several other equipment's aboard ships.
BENEFITS
TARGET TARI MARINO oils feature excellent heavy residual fuel detergency, superior thermal stability and resistance to oxidation.
Their high reserve alkalinity (TBN 20 ~ 70mgKOH/g) ensure rapid neutralization of the acidic products of fuel combustion, at the same time offering good retention of the excess alkalinity incorporated into them at the blending stage.
Available in a range of quality rating MARINO XL, X, T and L; each blended to SAE VG 30, 40 and 50, they provide a wide array to choose from for the particular application and engine requirements.
PERFORMANCE STANDARDS
API                                          CD
TYPICAL KEY PROPERTIES
TARGET TARI MARINO
XL
X
T
L
SAE Viscosity Grades
30
40
50
30
40
50
30
40
50
30
40
50
Kinematic Viscosity

@100ºC, cSt ASTM D445

11.5
14.0
19.5
11.4
14.5
19.5
11.2
14.5
19.2
11.6
14.6
19.7
Viscosity Index

ASTM D2270

95
95
95
95
95
95
95
95
95
95
95
95
Flash Point (COC), ºC

ASTM D92

220
230
240
230
230
240
225
235
240
225
235
240
Total Base Number,

mgKOH/g ASTM D2896

70
70
70
50
50
50
40
40
40
30
30
30